SkillsUSA Students Take Home GOLD at Nationals!
Manhattan Tech students Kimberly Fletcher and Chad Wollenberg competed, June 16-18, 2021, at the SkillsUSA's 57th National Leadership and Skills Conference, the world's largest showcase of skilled trades. 
This event, by invitation only, was for first place state medalists in competition areas for career and technical students. During the national competition, the students worked against the clock and other state winners, proving their Medical Math and Air Conditioning & Refrigeration expertise. All contests took place virtually with the help of technical committees made up of representatives of industry partners. This team of professionals designed competencies to test the skills needed for successful entry‑level performance in given occupational fields. 
Kimberly Fletcher, who recently graduated from Manhattan Area Technical College's Associate Degree of Nursing program, competed Wednesday, June 16, and earned top honors in post-secondary medical math, placing 1st nationally and bringing home a gold medal. 
Manhattan Tech's other student who competed nationally was Chad Wollenberg, who recently graduated from Manhattan Area Technical College's Air Conditioning and Refrigeration program. Chad competed in Air Conditioning and Refrigeration across a two-day event that spanned from Thursday, June 17 through Friday, June 18. He placed 1st nationally, bringing home the gold to the state of Kansas.
Congratulations to the following Manhattan Area Technical College students and their success at nationals!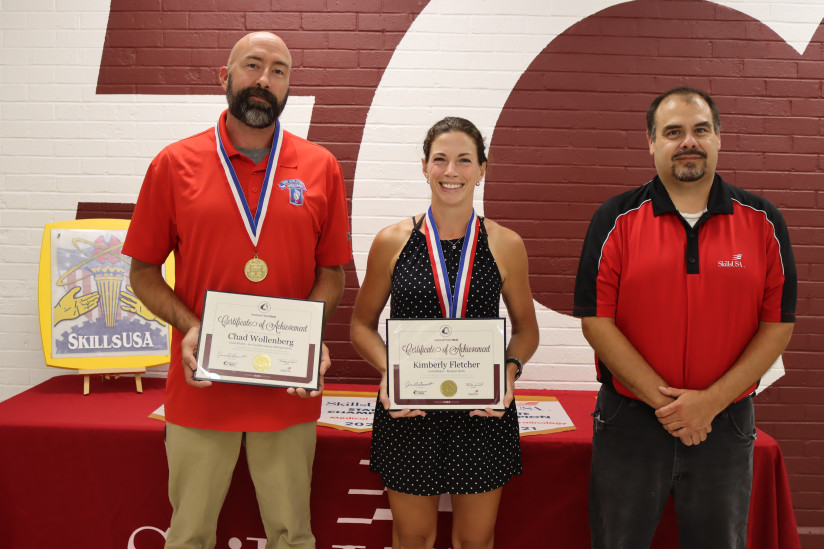 Pictured left to Right: Chad Wollenberg, Air Conditioning and Refrigeration, Gold Medal. Kimberly Fletcher, Medical Math, Gold Medal. Manhattan Tech SkillsUSA Advisor and Air Conditioning and Refrigeration Instructor, Frank Avila.
---