$1 million NSF Engines Development Award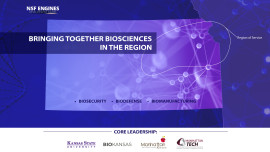 From Jarrett Whitson, K-State Division of Communications and Marketing
MANHATTAN — The Advancing Biosecurity, Biodefense, and Biomanufacturing Technologies project has been awarded $1 million from the U.S. National Science Foundation's Regional Innovation Engines, or NSF Engines, program. The project team includes core partners from Kansas State University, Manhattan Area Technical College, BioKansas, K-State Innovation Partners and the Manhattan Area Chamber of Commerce. 
...
Manhattan Area Technical College, or MATC, provides workforce education to support bioscience and biotechnology, which will aid the project's effort to support the needs of industry through workforce development.
"MATC will provide entry-level technician education in biomanufacturing — including essential lab skills and quality assurance competencies — and in facility support workforce education," said James Genandt, co-principal investigator and president and CEO of MATC.
---